ART REQUIREMENTS
Having quality accurate artwork will give your next project the best results. Here are specific guidelines to follow when creating and submitting art to us. No artwork? Just contact us and we can help!
FOR SCREEN PRINTING
PRINT READY
Artwork is considered "print ready" when it can be used for screen printing without the need for adjustments that may possibly incur added fees or result in delays. When submitting digital art files to Rocky Mountain Apparel, please refer to the below guidelines. If you have any questions call us at (303) 292-3331.
VECTOR ART
Vector artwork files must be saved up to Adobe Illustrator CS6 (.ai, .eps, .pdf). All fonts must be converted to curves or outlines to prevent font substitutions. Include a proof of your design with color designations to confirm that no font substitutions have occurred. All objects must have at least a 1pt line thickness to guarantee proper print quality. If the vector file contains any placed raster images, these images must meet or exceed our requirements for resolution when rendered at 100% of the final imprint size. Also, they must be submitted with the original vector file.
RASTER ART
We will accept raster artwork files saved in a .TIF, Encapsulated Post Script (.eps) format, or an Adobe Photoshop Document (.psd) up to Adobe Photoshop CS6. If these images are not provided on a transparent background art charges may be applied. For screen printing, all raster elements and art files must be saved at 100% of the final print size with a resolution of at least 220ppi.
PROGRAMS
We will accept files saved in Adobe Illustrator CS6 providing that all text is converted to curves or outlines. We will also accept files saved in Adobe Photoshop CS6 at 100% of final print size with a resolution of at least 220ppi. Jpegs are most often useless if they are taken from the internet, but can be replicated for use in screen-printing at an hourly art fee of $50.
FONTS
For vector art, text must be converted to paths, curves, or outlines. The text then becomes an object and can no longer be edited as text. Be sure to include a paper proof composite with color call-outs. A .pdf, .tiff, or .jpg thumbnail to ensure no font substitution has taken place.
LINE THICKNESS
All design elements should contain a line thickness of at least 1pt. Failure to assign a 1pt line thickness to all objects may compromise the final imprint quality.
COLOR MATCHING
Please specify color via PMS spot color designations to each object, text, or layer in your design. Due to hardware and software color calibration differences, this will allow the best color matching possible. We primarily use the Pantone Coated library. If you need more information about the Pantone Matching system please visit www.pantone.com.
PROOFS
When creating designs for our customers, proofs are a way of assuring that we have set your type correctly and that all of the design elements are placed according to your requirements. A proof will be sent to your email address provided that can be approved with a simple reply. We will not start on any project until your proof has been approved.
FOR EMBROIDERY
Many types of file formats work well for embroidery digitizing. The two preferred file types are png or pdf. Also common are Adobe Illustrator (.ai) format, jpegs, and eps files. There is no need for vector based art, but it does work great and is the highest quality format available for logos and designs.
Size restrictions are based on location for embroidery. We suggested 3.5 in wide for locations like a left chest. A sleeve we like to keep the logo around 3 inches wide. For baseball caps the width of the design can vary, but the height is restricted to 2.55 inches. Most full back embroidery is around 10 inches wide, but that can change depending on the garment.
DOES THE GARMENT HAVE AN INSIDE POCKET?
If it does we will not sew a design in that location unless you are ok with the inside pocket being sewn shut.
IS THERE A SEAM WHERE YOU WANT THE EMBROIDERY TO GO?
We can sew over seams, but it does cause a difference in the appearance of the embroidery.
HOW SMALL CAN THE LETTERING BE?
We suggest a minimum height on small letters at .2 inches. When doing small lettering the openings in certain letters can cause damage to the garments, or the openings will close up making the letters hard to read. We always like to and try to avoid this situation.
Contact us Embroidery services in Denver.
FOR PROMOTIONAL ITEMS
Like screen printing, it is very important if not more important to have the correct type of artwork. With our experience we can say even more so than screen printing, that having vector art will give you the highest quality print on Promotional Products. Reason being is that many promotional products have very small imprint dimensions. Knowing that vector art is not resolution dependent will retain the highest detail at these small imprint sizes.
We are also providing Screen Printing services Denver, Colorado, Apparel Denver and Custom Printing Services Denver.
VECTOR VS. BITMAP
There is always a lot of confusion on these two types of graphic formats and we have written this section to try and help people understand the differences.
Vector graphics/objects are created using mathematical based lines and vector points. Because of this, there is no loss of design or edge quality as the design or logo is increased or decreased with size. This is the most widely used graphic format for creating the best quality logos for for many different types of printing methods. The best program for creating vector graphics is Adobe Illustrator.
Bitmap graphics are any type of image that contain pixels. A pixel is just a small square of color or tones. Basically a tiny little square image. When those tiny little images are sequenced correctly horizontally and vertically what you see is the full image. Bitmap images can be used quite well for screen printing as long as they are setup correctly. They can also be combined with vector graphics in Illustrator.
Bitmap images are dependent on what's called resolution. The lower the resolution the image is created at the more blurry and jagged the edges of the art will be. Increasing the size of an image that is not the correct resolution or size needed for a print will also lead to image quality loss as you can see in the image to the left. The best program for creating bitmap graphics is Adobe Photoshop.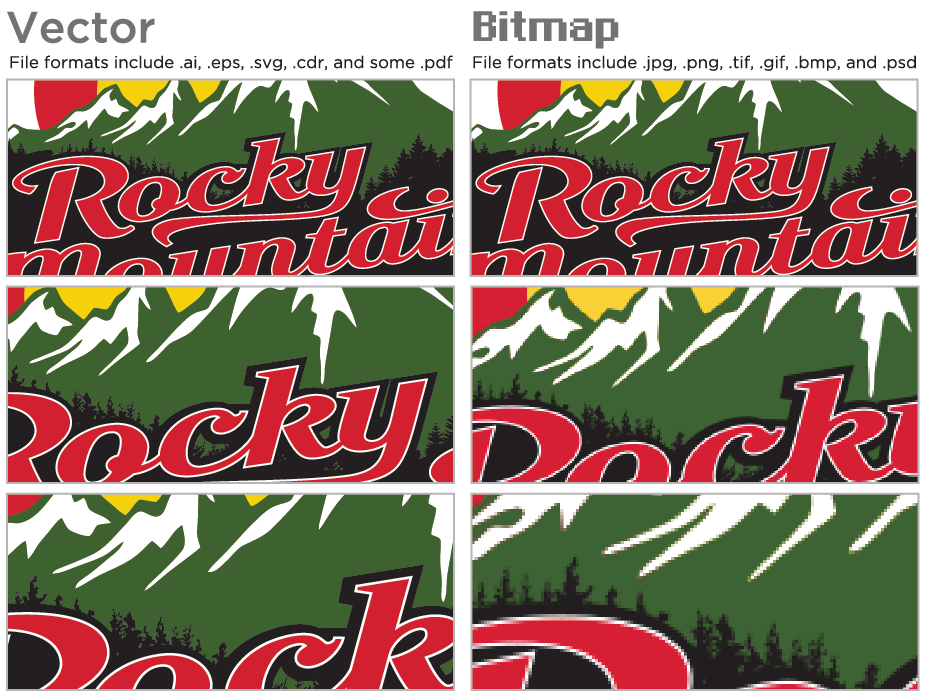 GET A QUOTE
For a quote on your next printing, embroidery, sticker or marketing and promotional project, please click on the buttons below or call (303) 292-3331.